Level Statistics
| L. Rank | L. Name | Crowns | Gems | Percentages | Unlocked? |
| --- | --- | --- | --- | --- | --- |
| 1 | The Spring | 3 | 10/10 | 100% | Yes |
| 2 | The Time | 3 | 10/10 | 100% | Yes |
| 3 | The Piano | 3 | 10/10 | 100% | Yes |
| 4 | The Beach (Dance Remix) | 3 | 10/10 | 100% | Yes |
| 5 | The Ugly Duckling | 3 | 10/10 | 100% | Yes |
| 6 | The Winter | 3 | 10/10 | 100% | Yes |
| 7 | The Ocean | 0 | 0/10 | 0% | No |
| 8 | The Hip Hop Evolution | 3 | 10/10 | 100% | Yes |
| 9 | The Storm (Blues Remix) | 3 | 10/10 | 100% | Yes |
| 10 | The Savanna | 3 | 10/10 | 100% | Yes |
| 11 | The West | 3 | 10/10 | 100% | Yes |
| 12 | The Valentines | 3 | 10/10 | 100% | Yes |
| 13 | Dream of Sky | 3 | 10/10 | 100% | Yes |
| 14 | The Halloween | 3 | 10/10 | 100% | Yes |
| 15 | The Halloween Puzzle | 3 | 10/10 | 100% | Yes |
| 16 | The Exodus | 3 | 10/10 | 100% | No |
| 17 | The Alone - Alan Walker | 3 | 10/10 | 100% | Yes |
| 18 | The Plains | 3 | 10/10 | 100% | Yes |
| 19 | Dream of Sky_color | 3 | 10/10 | 100% | Yes |
| 20 | The Desert | 3 | 10/10 | 100% | Yes |
| 21 | The Alley | 3 | 10/10 | 100% | Yes |
| 22 | The End - Theo5970 | 3 | 10/10 | 100% | Yes |
| 23 | The Mountains | 3 | 9/10 | 100% | Yes |
| 24 | The Easter | 3 | 10/10 | 100% | Yes |
| 25 | The Maze | 3 | 10/10 | 100% | Yes |
| 26 | The Earth | 3 | 10/10 | 100% | Yes |
| 27 | The Earth (Color Remix) | 3 | 10/10 | 100% | No |
| 28 | The Storm | 3 | 10/10 | 100% | Yes |
| 29 | The Christmas Eve | 3 | 10/10 | 100% | Yes |
| 30 | The Christmas Party | 3 | 10/10 | 100% | Yes |
| 31 | The Autumn | 3 | 10/10 | 100% | Yes |
| 32 | The Faded - Alan Walker | 3 | 10/10 | 100% | Yes |
| 33 | The Plains (Reggae Remix) | 3 | 10/10 | 100% | Yes |
| 34 | The Taurus | 3 | 10/10 | 100% | Yes |
| 35 | The Amusement Park | 0 | 0/0 | 0% | No |
| 36 | The Winter (House Remix) | 3 | 10/10 | 100% | Yes |
| 37 | The Basketball | 3 | 10/10 | 100% | Yes |
| 38 | The Football | 3 | 10/10 | 100% | Yes |
| 39 | The War | 0 | 0/0 | 0% | No |
| 40 | The Cathedral (Rock Remix) | 3 | 10/10 | 100% | Yes |
| 41 | The Cathedral | 3 | 10/10 | 100% | Yes |
| 42 | The Crystal | 3 | 10/10 | 100% | Yes |
| 43 | The Indian Journey | 3 | 10/10 | 100% | Yes |
| 44 | All About Us | 3 | 10/10 | 100% | Yes |
| 45 | The Sailor's Tale | 3 | 10/10 | 100% | Yes |
| 46 | The Chaos | 3 | 10/10 | 100% | Yes |
| 47 | The Legend of Assassin | 0 | 7/10 | 69% | Yes |
| 48 | The Spring Festival | 3 | 10/10 | 100% | Yes |
| 49 | The Chinese Garden | 3 | 10/10 | 100% | Yes |
| 50 | The Faded Original | 3 | 10/10 | 100% | Yes |
| 51 | The Racing | 0 | 7/10 | 79% | Yes |
Challenge Mode
| L. Rank | L. Name | Basic | Perfect Taps | Normal Taps | Total | Percentages |
| --- | --- | --- | --- | --- | --- | --- |
| 1 | The Piano | 100 | 300 | 0 | 400 | 100% |
| 2 | The Faded - Alan Walker | 86 | 560 | 8 | 654 | 87% |
| 3 | The Chinese Garden | 70 | 442 | 1 | 513 | 72% |
Reason why I didn't finish the level.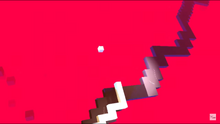 The Legend of Assassin. This is the one of the levels that looks confusing. Trying using guidelines never works during update of The Racing.
The Racing. Car moves randomly, confused, and I just made it to the Second Crown. No guidelines. Extra confused.
I did not unlock The War and The Amusement Park because it forced me to pay the real money!
The Ocean, I did not unlock that. I will go the hardest level first but I always stuck.